April 15, 2015 Drawing on Windows
Perceptual Drawing was my final MFA thesis presentation and it was held in the +15 link to the Taylor Family Digital Library and the MacKimmie Library Tower, as part of the overall MFA Exhibition at the Nickle Galleries, U of C. There, I drew for many consecutive hours and twenty days on the windows of the walkway. I used impermanent markers with the intention to draw and observe the outside view of the windows. Rather than bringing reproductions of the activity into the gallery setting, it was important that the drawings were experienced in their original location, so the spectator could adjust their vision in my perspective and relate the drawings to their own view of the outside. Perceptual Drawing was performed during August 2014.
Here is a link with additional images of the Perceptual Drawing project:
January 11, 2014 Drawing on Windows
The Collaborative Drawing project was focused on transitory places in the Art Department, University of Calgary. During the month of November 2013, I invited students, professors, and passersby to stop and draw the outside view on the department windows. This activity brought an interruption to the flow of corridors and hallways, giving participants a pause to enjoy the experience of seeing. For a moment these transitory sites were transformed into gathering places, engaging the observer by drawing a view that might normally be overlooked.
The video documentation for this project can be seen at
This project was reproduced at the University of Alberta in Edmonton for the Art and Design Graduate Student Association (ADGSA) symposium and exhibition Performative Ecologies: Thinking Through Research Practices, March 2014. Here is the link with images of the event:
A third iteration of this project was held at the +15 between the Professional Faculties building and the Education Tower, University of Calgary, May 2104.
January 7, 2014 Drawing on Windows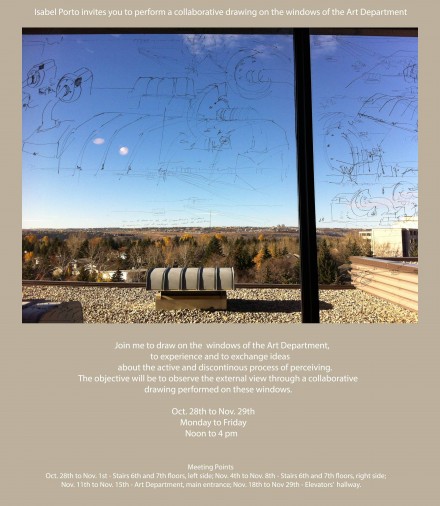 June 25, 2013 Drawing on Windows
During the last week of March 2013,  I invited people to walk around the Art Building terrace, University of Calgary, starting at sunset. On every side of the building, the windows reflect images of the campus and the city of Calgary itself. The reflection of each person was blended with its surrounding as a deeper connection with this place. The objective of the walk was to open new possibilities of understanding, orientation, and connection with the Art Building, the University campus and the city of Calgary . The event had a total of 45 participants. These photographs were sent by  some of  the participants. Thank you Meghan Kim, Olivia Stricker, Marcio Netto, Francis Miu, Jean-Rene Leblanc and Andre Perrone for your contribution.
June 25, 2013 Drawing on Windows