Abril 15, 2015 Drawing on Windows
Perceptual Drawing was my final MFA thesis presentation and it was held in the +15 link to the Taylor Family Digital Library and the MacKimmie Library Tower, as part of the overall MFA Exhibition at the Nickle Galleries, U of C. There, I drew for many consecutive hours and twenty days on the windows of the walkway. I used impermanent markers with the intention to draw and observe the outside view of the windows. Rather than bringing reproductions of the activity into the gallery setting, it was important that the drawings were experienced in their original location, so the spectator could adjust their vision in my perspective and relate the drawings to their own view of the outside. Perceptual Drawing was performed during August 2014.
Here is a link with additional images of the Perceptual Drawing project:
Janeiro 11, 2014 Drawing on Windows
The Collaborative Drawing project was focused on transitory places in the Art Department, Universidade de Calgary. Durante o mês de Novembro 2013, Eu convidei alunos, professores, and passersby to stop and draw the outside view on the department windows. Esta atividades trouxe uma interrupção nos corredores, halls e escadarias, dando aos participantes uma pausa para apreciar a experiência de ver.. Por um momento estes espaços transitórios foram transfomados em pontos de encontro, convidando o observador a desenhar uma vista que possivelmente passaria desapercebida.
The video documentation for this project can be seen at
This project was reproduced at the University of Alberta in Edmonton for the Art and Design Graduate Student Association (ADGSA) symposium and exhibition Performative Ecologies: Thinking Through Research Practices, Março 2014. Here is the link with images of the event:
A third iteration of this project was held at the +15 between the Professional Faculties building and the Education Tower, Universidade de Calgary, May 2104.
Janeiro 7, 2014 Drawing on Windows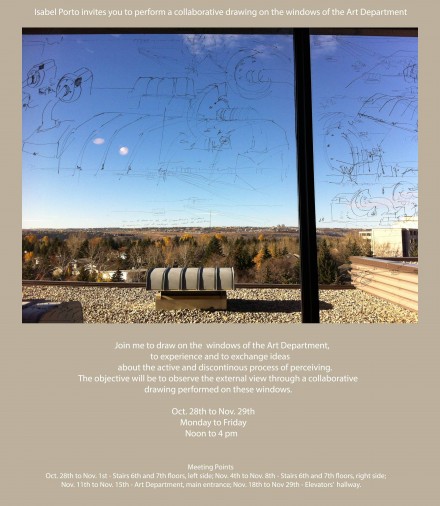 Junho 25, 2013 Drawing on Windows
Durante a última semana de Março 2013, Eu convidei as pessoas para andar em volta da parte externa do prédio Art Building, Universidade de Calgary, começando no momento do pôr-do-sol. Em cada lado do edifício, as janelas refletem imagens do campus e da cidade de Calgary. Durante a caminhada o reflexo de cada pessoa ficou misturado com a paisagem refletida nas vidraças representando um conexão com mais intensa com o lugar em que estavamos inseridos. O objetivo deste evento era abrir novas possibilidades de entendimento, orientação, e significação com o prédio Art Building, o campus da Universidade and a cidade de Calgary . O evento teve um total de 45 participantes. Estas fotografias foram enviadas por alguns dos participantes. Obrigada a Meghan Kim, Olivia Stricker, Marcio Netto, Francis Miu, Jean-Rene Leblanc e Andre Perrone pela sua contribuição.
Junho 25, 2013 Drawing on Windows